The Right Worshipful Grand Master
Brother Jeffrey M. Wonderling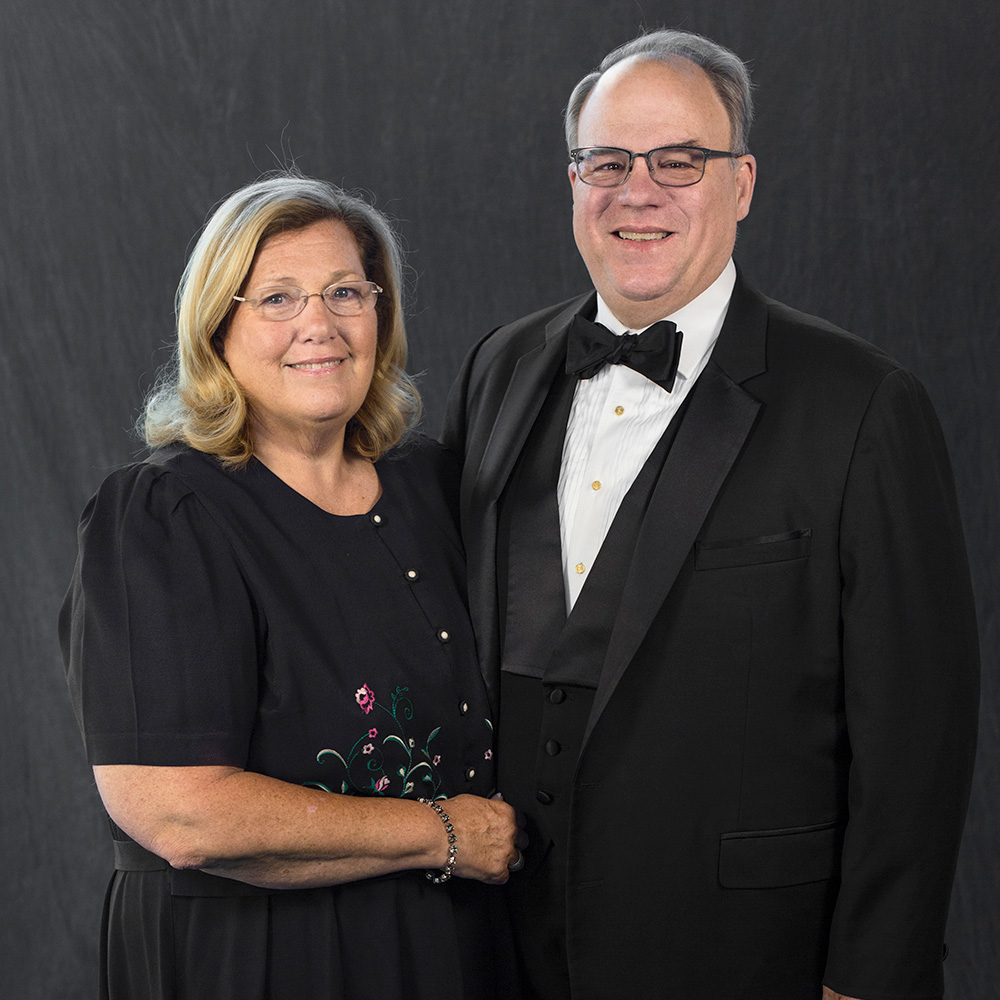 Brother Jeffrey M. Wonderling, Right Worshipful Grand MasterMrs. Sharon Wonderling, First Lady
Brother Jeff graduated from Gateway Senior High School in Monroeville, PA, and the LaDolce Academy of Real Estate in Pittsburgh. He is employed by Flynn's Tire Group as a Territorial Manager and has specialized in business development for over 36 years.
Jeff and his wife, Sharon, are members of Salem Evangelical Lutheran Church, Delmont, where he has served on the Church Council, Mutual Ministry and Finance Committees, as an Assisting Minister and as Chairman of two capital campaigns. He serves on the Board of Directors for the Better Business Bureau of Western Pennsylvania and is a member of the Police Rod & Gun Club. Previously, he served on the Board of Directors for the American Heart Association of Westmoreland County.
Jeff enjoys hunting, fishing, sporting clays, cooking and crafting handmade bow ties.
Jeff has two stepsons, Brothers Thomas E. Bahney, Jr., and Michael R. Bahney, and two grandchildren, Julia and Brother Dylan Bahney.
Masonic Resume
Brother Jeffrey M. Wonderling became a Pennsylvania Mason in 1993. He served as Worshipful Master (1998) of King Solomon's Lodge No. 346, Connellsville, and is a warrant member of Lodge Ad Lucem No. 812, Pittsburgh, for which he served as Secretary in 2007-2008. Jeff served as District Deputy Grand Master of the 30th Masonic District, 1999-2005, and as Principal of the 30th Masonic District School of Instruction. In addition, he has served on the Masonic Villages Board of Directors, 2006–2013 and 2016-present. He is a recipient of the Grand Lodge Century Award and received the Grand Master's Outstanding Service Award in 2013.
Jeff is a member of the Pennsylvania Lodge of Research. As a CDS Building Corporation Board Member, Jeff served as Chairman of the Capital Campaign to construct the Pleasant Valley Masonic Center. In 1998, he co-founded the outdoor "Meeting in the Hills," the first of its kind in Pennsylvania.
A member of Connellsville Royal Arch Chapter No. 283, Jeff served as Most Excellent High Priest in 2000. He also holds membership in Mt. Moriah Council No. 2. Jeff is a member of Kedron Commandery No. 18 and U.S. Premier Conclave, Red Cross of Constantine.
Jeff is also a member of the Valley of Uniontown Lodge of Perfection, where he served as Thrice Potent Master in 2005. As a member of the Valley of Pittsburgh, Jeff served as Most Wise Master of Pittsburgh Chapter of Rose Croix in 2012 and as Commander and Chief of the Pittsburgh Consistory in 2018-2019. He was coroneted an Honorary Member of Supreme Council, 33°, in 2006. He is also a member of the Builders Council for the Endowment of the Pittsburgh Center for Dyslexia.
Jeff served as Director of Work (2010-2011) and Ambassador (2014-2015) for Syria Shrine. He is a member of the Royal Order of Jesters, Court No. 2, and Tall Cedars of Lebanon, Westmoreland Forest No. 77. In addition, he is a member of the Royal Order of Scotland and is currently serving as the Provincial Grand Tyler.
Jeff is a Past Worthy Patron of Forbes Chapter No. 524 and a member of Irwin Chapter No. 400, Order of the Eastern Star, and is a Past Royal Patron of Jeannette Court No. 25, Order of the Amaranth. He was honored to serve in the East with his wife, Sharon, when she served as Worthy Matron.
A staunch supporter of all Masonic youth groups, Jeff received the DeMolay Legion of Honor and was made an Honorary Member of The International Supreme Council of the Order of DeMolay. He is a member of the Pennsylvania Masonic Youth Foundation Board of Directors.
Grand Master's Initiatives
Town Hall Meetings & Open Houses
Between January and April 2022, the Grand Master hosted 12 town hall meetings to meet and talk with brethren across the Commonwealth. He also hosted 12 open houses across the state to introduce new men to the fraternity. Brethren were invited to attend one of the town hall meetings to learn more about our plans for the fraternity and to provide their own thoughts and suggestions.
Membership Value
In addition to enhancing the membership process, Brother Jeff's initiatives include continuing to promote the Masonic Outreach Program and its services. The Masonic Outreach Program can now provide those in need with a comprehensive assistance application and coordinate services and support from a wider variety of charities and resources.
Another initiative includes expanding the Masonic Widows' Guild. To date, only 1,300 out of 14,000 eligible Masonic widows have joined the program, which offers opportunities for fellowship, support and access to needed services.