PA Masonic License Plates
Instructions and Application
Instructions for filing the application: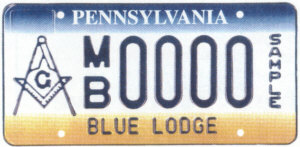 Complete Sections A & D only.
Attach check payable to "Grand Lodge of Pennsylvania" for $32. (Include cost for additional registration cards, if desired.)
DO NOT MAIL IT TO THE BUREAU OF MOTOR VEHICLES.
Mail completed application, and check or money order to:
Grand Lodge of Pennsylvania
One North Broad Street
Philadelphia, PA 19107-2598
The Grand Secretary's Office will validate your membership, complete sections B & C, and forward it to the Bureau of Motor Vehicles.
Click here for the Application for Special Organization Registration Plate
The State of PA has announced that effective July 1, 2021, specialty plates are now available.
Specialty plates are personalized versions of the Blue Lodge plates above, and cost $160 ($128 plus $32 for the registration).
Specialty plates can be up to 5 characters (alpha or numeric), and may contain one hyphen or space (but not both).
To order the specialty version of the license plate, please fill out this form, enclose $160, and send it to the Grand Lodge at the address above.
For questions, call Harry Rutter at 215-988-1957 at the Masonic Temple in Philadelphia.