Masonic Road Signs
Show your Lodge's pride in being a cornerstone in the life of your community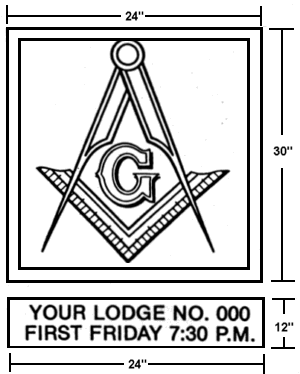 Become a visible part of the network of fraternal brotherhood throughout the Commonwealth! These PennDOT approved signs not only help raise visibility of Freemasonry and your lodge, they tell travelling brothers where and when you meet, and remind your own members to be active in their lodge! These are the only designs approved by Grand Lodge of Pennsylvania.
Masonic Signs Supplier:
Walsh Equipment
796 Unionville Road
Prospect, Pennsylvania 16052
Phone: 724-865-9221
Fax: 724-865-9817
Specifications:
Reflective white lettering and border with reflective blue background on .080 gauge aluminum.
Price:
Large Symbol Signs
Information Signs
24″ x 12″ (three lines of text)[Lodge Name, Lodge No., Meeting Day and Time]: $35.00 each
24″ x 18″ (four or five lines of text): $59.00 each
24″ x 24″ (six or seven lines of text): $75.00 each