The Academy of Masonic Knowledge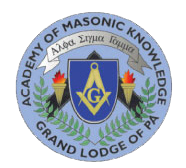 The Pennsylvania Academy of Masonic Knowledge strives to create an environment that encourages Masons to seek a greater understanding of the nature and purposes of Freemasonry in all its many aspects – past, present, and future – and to share that understanding with others.
To this end, the Academy offers learning opportunities in which Masons may participate in dialogues with similarly inclined brethren, witness prominent Masonic scholars discussing various aspects of Freemasonry, and pursue home study at their own pace and in their own areas of interest, through publications on Masonic subjects recommended by the Academy.
In addition to providing a learning experience for Freemasons, the Academy is a vehicle affording recognition to Masons who share their knowledge of Freemasonry with fellow Masons or the public by the written or spoken word.
Theodore W. Schick, Jr., Lodge No. 673, Chairman
Thomas W. Jackson, R.W.P.G.S., Lodge No. 315
Charles S. Canning, Lodge No. 673
Paul D. Fisher, Lodge No. 549
John W. Postlewait, Lodge No. 276
William R. Rininger, P.E., Lodge No. 537
James L. Sieber, Lodge No. 315
George R. Haynes, Lodge No. 91
Erastus Z. Allen, Lodge No. 812
This logo symbolizes the Academy of Masonic Knowledge's unyielding pursuit of academic ideas, the achievements of our past, the bright future ahead for Freemasonry, and the fraternity's dedication to high goals.
The Laurel symbolizes victory, or triumph, and the continued pursuit of academic ideals.
The Field, or Banner, refers to ideals of essential importance: Alpha, or Advancement of Organizational Ideals; Sigma, or Scholastic Achievement; Gamma, or Fellowship
The Torches are symbolic of learning, and remind us that every person is a potential source of knowledge, with the added responsibility to bring enlightenment to all whom he encounters.
The Chevron is symbolic of rank, or merit. The three points of the Chevron represent the individual Brother, his Masonic affiliation, and the Nation.
The Shield, bearing the Square and Compasses and the letter "G," symbolizes protection of our fraternity through the dissemination of God's Truth.
Saturday, March 19, 2016
Freemasons Cultural Center
Masonic Village at Elizabethtown, PA
The program for the day is a discussion with the Brothers of the Masonic Roundtable Podcast.

The 2016 Spring session of the Academy of Masonic Knowledge will be held on Saturday, March 19, in the Deike Auditorium of the Freemasons Cultural Center on the campus of the Masonic Village in Elizabethtown, Pennsylvania. Registration will open at 8:30 a.m. with the program beginning at 9:30 a.m. A lunch (requested contribution of $10) will be served at noon and the program will be completed by 3:00 p.m. All Masons are welcome to attend. Dress is coat and tie.
Pre-registration is required.
To pre-register, please send your name, address, Lodge number and telephone by e-mail to: AMKSecretary@pagrandlodge.org
If you do not have access to e-mail, please make your reservation through your Lodge Secretary.
Please recognize that a cost is incurred to the program for your registration. If you pre-register and subsequently determine that you will be unable to attend, please have the Masonic courtesy to cancel your reservation by the same method and providing the same information.
The Masonic Roundtable is a weekly panel of Masons from around the United States who discuss the latest and greatest in Masonic news, events, scholarship, and happenings.
Jon T. Ruark
Bro. Jon Ruark is a Past Master of The Patriot Lodge No. 1957 in Fairfax, VA. His love of technology and gadgets led him to start The Masonic Roundtable as a Hangout on Air. His Masonic interests lean toward the esoteric and philosophical aspect. He lives in Virginia with his wife, 3 children, a dog named Copernicus, and 2 cats; Tesla and Edison.
Jason Richards
Bro. Jason Richards is an officer in Acacia Lodge No. 16 in Clifton, VA, where he was raised in 2012. A historian by trade, his favorite Masonic topics include the history of American Freemasonry, the sociocultural impact of Freemasonry, and the evolution of Freemasonry since the early 1900's. He is the writer of the Masonic blog "The 2-Foot Ruler: Masonry in Plain Language" (http://www.2footruler.wordpress.com). He lives in Virginia with his wife, cats, and ever-expanding collection of bow ties.
Juan Sepulveda
Bro. Juan 'One' Sepulveda is a member of Eola Lodge No. 207 F. & A.M. in Orlando Florida. He is a professional artist and shortly after becoming a Freemason, he decided to develop a collection of Masonic Art and Custom Masonic Aprons. It was a natural progression to his creative work, since he is passionate for history, Masonic education and allegorical teachings. Today, Juan's artwork is part of private and corporate collections in the United States, South America, The Caribbean, Europe and Australia. Juan Sepúlveda is the host of The Winding Stairs Freemasonry Podcast and is a public speaker who specializes in the topics of Art, Freemasonry and the art of self-improvement.
Nick Johnson
Bro. Nick Johnson is best known as the lead blogger at the Millennial Freemason blog. A lover of codes, symbols, esoteric craziness, and "secret" stuff, he became interested in Freemasonry and its symbols as a young man. With the help of his grandfather, Bro. Nick joined Corinthian Lodge No. 67 in Farmington, MN in the spring of 2006 and served as Master in 2010. He is also a Past High Priest of Corinthian Chapter No. 33, RAM, Deputy Master of Northfield Council No. 12, R&SM, and Generalissimo of Faribault Commandery No. 8. He's also involved in AMD, Knight Masons, and the Sovereign College. He lives in the Minneapolis-Saint Paul area with his wife and kids, and some cats.
Robert Johnson
Bro. Robert Johnson is a Freemason out of the First North-East District of Illinois, and is the Senior Warden of Waukegan Lodge #78. He is also a member of the York Rite bodies Royal Arch, Cryptic Council, Knights Templar, AMD and the Scottish Rite (32nd degree). Brother Johnson currently produces and hosts a weekly Podcast (internet radio program) which focuses on Freemasonry ( www.wcypodcast.com ). In addition, produces video shorts focusing on driving interest in the Fraternity and will write original Masonic papers from time to time. He is the managing editor of the "Midnight Freemasons" blog as well. He is a husband and father of 3. He works full time in the safety industry and is also a photographer on the side as well as an avid home brewer. He is also working on three books, all of which are Masonic in nature. Also, he does not have any cats.
All Pennsylvania Masons are encouraged to join the Academy of Masonic Knowledge. Registration and membership is free of charge. Joining entitles you to notification of future meetings of the academy and other pertinent information as it becomes available. Joining the academy does not obligate you to the Certification Program. However, if you wish to participate in the Certification Program, you must register.
To register, complete the Registration form and mail it to:
William R. Rininger
1120 Karen Street
Boalsburg, PA 16827-1642
academy@pagrandlodge.org
External studies programs are currently the fastest growing of all educational methods and the most diverse. The Committee of the Academy of Masonic Knowledge will attempt to provide to you the basic tools and principles for your study. How well you use these tools in your pursuit of Masonic knowledge will be analyzed and determined through your Evaluation Reports. It is important to your success that you not only know the subject, but that you demonstrate an ability to identify and apply the Masonic principles you have learned. The best ideas are those that work and the best scholars are leaders who set the pace for putting their thoughts and knowledge into action.
If you are to play an important role in our society, you must be prepared to deal not only with the known, but to understand and create new solutions to ever-changing problems in a world where the dynamics of every situation are ever-increasing in intensity and diversity. You must be able to survive in an environment where available knowledge is increasing so rapidly that yesterday's solutions simply may not apply.
Leadership is the ability to make decisions now while allowing enough flexibility to change and enough stability to make your decisions effective.
The Committee of the Academy of Masonic Knowledge looks forward to your success and to assisting you in the fulfillment of your objectives.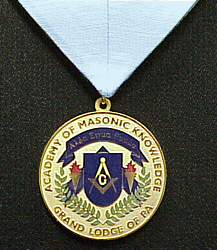 Pennsylvania Masons who complete all three certification levels and attain the designation of "Master Masonic Scholar" will be presented a collar and jewel that can be worn to any Masonic meeting.