Masonic Wreath-Laying at Arlington National Cemetery
by Brother Darrin C. Catts, Good Samaritan Lodge No. 336, Gettysburg; District Deputy Grand Master, 42nd Masonic District.
I have had many incredibly memorable experiences since I joined our beloved and gentle craft, but one specific experience will always rank towards the top of my list.
On Dec. 18, 2021, I joined the officers and members of Shrewsbury Lodge No. 423 for a very special event. Brother Joe Reuter, the Worshipful Master of Shrewsbury Lodge No. 423, had secured permission to lay a wreath at the Tomb of the Unknown Soldier at Arlington National Cemetery. When he called and invited me to participate, he also asked me to invite Right Worshipful Grand Master Brother Thomas Gamon IV, as well as the other Grand Lodge Officers. They all were instantly excited about the opportunity to witness this very special event, and we ended up with the Grand Master, Senior Grand Warden and Junior Grand Warden joining us for the day. We had made arrangements for a chartered bus to pick up the group in Shrewsbury and transport us to Arlington. The reservations for the bus trip filled in under one day.
This event coincided with the Wreaths Across America program; the organization had many volunteers at Arlington that day placing wreaths on the graves of all of our war heroes. The cemetery was a very busy place. For those of you who have visited this sacred site and are familiar with the "Changing of the Guard" ceremony that is performed at the Tomb of the Unknown Soldier, our wreath-laying was to occur right after the noon Changing of the Guard. There were hundreds of people present to witness this impressive military ritual, and they all seemed to remain to witness our wreath-laying ceremony right after the Changing of the Guard. Brother Joe was informed when he arranged this event that only four individuals would be permitted to participate in the actual wreath-laying ceremony, but the other attendees could witness the entire ceremony. The Great Architect of the Universe was looking out for us as Brother Joe's son, Brother Brady Reuter, Shrewsbury Lodge No 423, a U.S. Navy officer, was able to return home and participate in the ceremony in his full dress uniform. I am probably a little prejudiced here, but three brothers in full Masonic Regalia along with an active duty officer must have been quite a sight for those who witnessed the ceremony.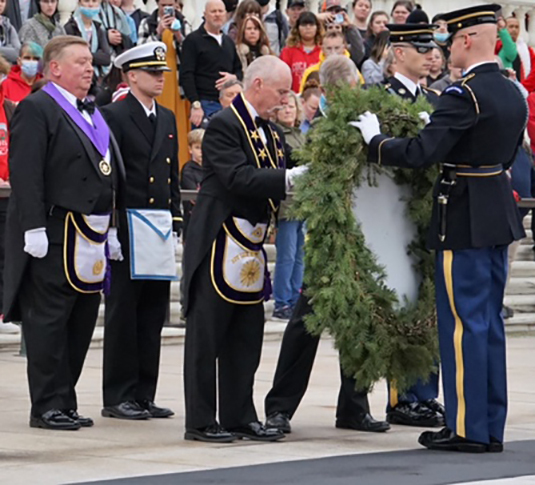 The four of us proceeded down the steps onto the amphitheater that surrounds the tomb and followed all of the instructions we received from the guards. We placed our wreath on the Tomb of the Unknown Soldier, then stepped back into our formation. One of the members of the Guard Unit then played "Taps" while we placed our hands over our hearts, and Brother Brady snapped to a salute. Once we were finished, we proceeded back up the steps, escorted by our assigned guard.
After the ceremony was completed, we assembled for numerous pictures of all the brothers who joined us for the day.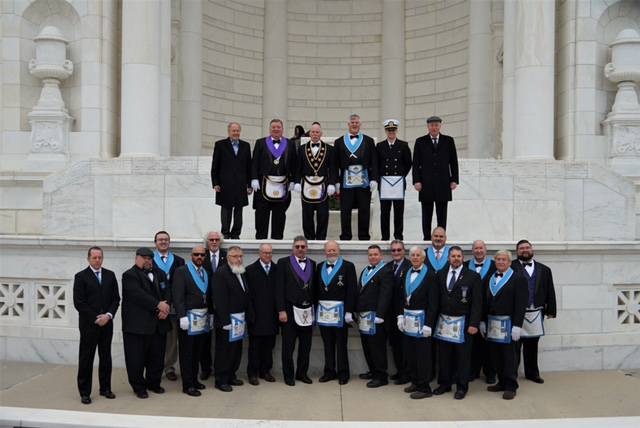 This was truly a once-in-a-lifetime opportunity to participate in such a solemn and sacred ceremony. I extend my sincerest thanks to the officers, members and especially Brother Joe Reuter for including me and the other Grand Lodge Officers in such a special day with great brothers and their families. We had right around 50 Masons and family members ride with us on the coach, and several additional members who met us at Arlington. It was a very special day. I spoke to Grand Master Gamon the next morning and asked if his feet had returned to earth yet, he replied "No. Yours?" I agreed with him wholeheartedly and also stated "No."
This event will always remain very close to the top of my list of unforgettable experiences, not only in Masonry, but in life itself. I hope we did a dignified job honoring our nation's true heroes.